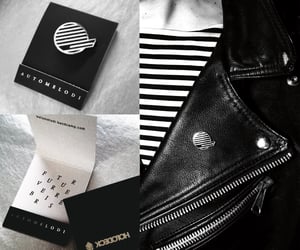 $

7.00
Automelodi logo lapel pin with OR without the "Mirages au futur verre-brisé" album download code (please choose the desired option in the menu below).
* Pin only: $7.00 *
* Pin with code: $14.00 *
Silver metal and black.
----------------------------------------
Épinglette au logo d'Automelodi avec OU sans code de téléchargement de l'album "Mirages au futur verre-brisé" (veuillez choisir l'option désirée dans le menu ci-dessous).
Métal argenté et noir.
----------------------------------------
Please note: I unfortunately had to increase the shipping fees for this item. Despite the small size and light weight of the pin, Canada Post do not allow me to ship it as a simple letter and force me to ship it as "small parcel", which is much more expensive, especially for international orders and when the order is only for one unit.
----------------------------------------
Veuillez noter: j'ai malheureusement dû augmenter les les frais d'expédition pour cet item. Malgré la petite taille et la légèreté de l'épinglette, les règlements de Postes Canada ne me permettent pas de l'expédier comme simple lettre et me forcent à l'expédier comme "colis léger", ce qui augmente considérablement les frais, surtout pour les commandes internationales et celles d'une seule unité.